World Club Championship 2014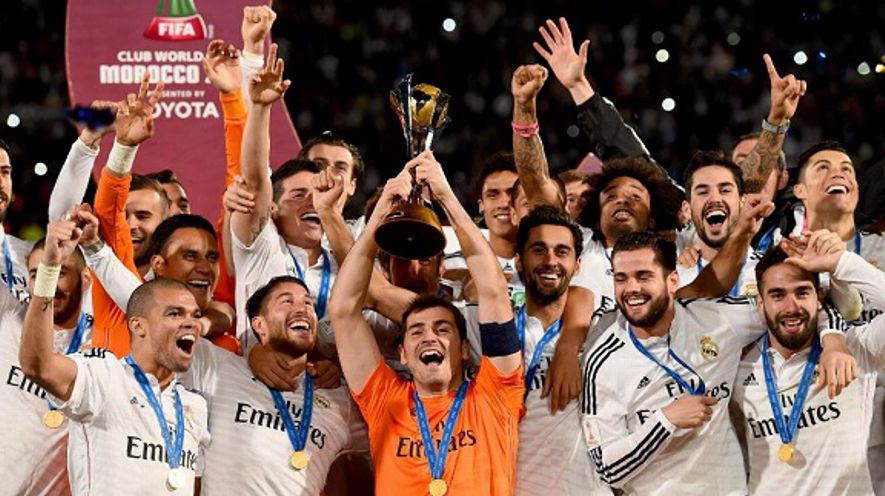 As Freddie Mercury sang, "We are the champions, of the World!"
Goals from Ramos and Bale brought Real Madrid their fourth trophy of an unforgettable 2014.
No Real Madrid fan will ever forget 2014, the year in which the Whites were crowned world champions. Against San Lorenzo at the Grand Stade de Marrakech, they claimed their 22nd consecutive win and added the final flourish to 365 historic days in which they have won the Champions League, the European Super Cup, the Copa del Rey and this unforgettable Club World Cup.
It was not easy to overcome a streetwise Argentinian outfit that defended in numbers and for whom time was its ally. As was the case in the semi-final, Ancelotti's dead-ball preparations proved key. The same men were to the fore as against Cruz Azul, as Kroos delivered the corner after 37' and Ramos scored with his head once again.
The Whites enjoyed a much more positive start to the second half, as they settled the final on 51'. A threaded through-ball from Isco found Bale, who used his first touch to trap the ball dead in the area and his second to unleash a shot that squirmed underneath Torrico's body.
Far from facing a siege from their opponents, possession continued to be dominated by the European champions, who were after more goals and looked extremely assured at the back. Bale crossed with the outside of his boot on 73', Benzema's first-time effort flying centimetres wide of Torrico's goal. In the final stages, Casillas popped up with two good saves to deny long-range drives from Kalinski after 84' and Mercier two minutes later.
To chants of "Campeones, campeones!" and with Ramos handed a rapturous ovation as he was replaced by Varane, Madrid closed out a Club World Cup in which they did not concede once. The fans are jubilant, and Real Madrid are on top of the world.