International Champions Cup 2015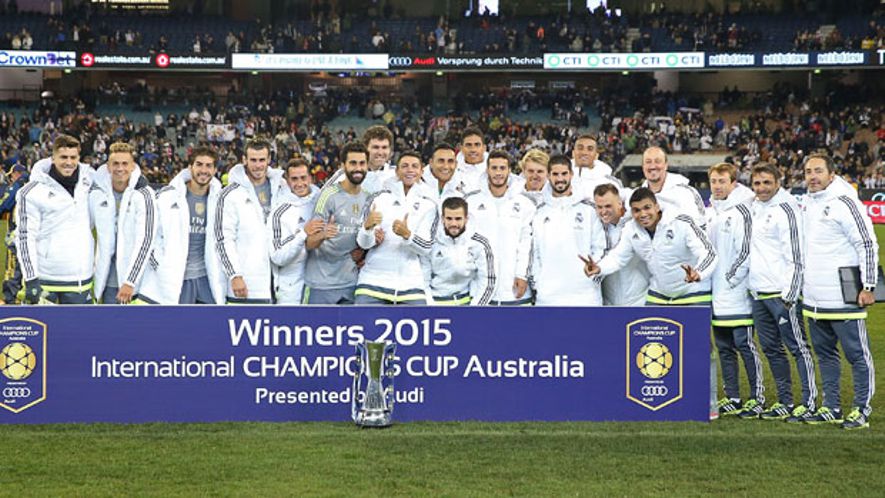 July 2015, Real Madrid comes to Australia, Melbourne especifically, to play 2 matches in the International Champions Cup (ICC). This is pre-season competition matching some of the top teams from across the world and some local teams. Real Madrid's matches were against AS Roma and Manchester City. So of to Melbourne I went, with my youngest daughter Cristina, to watch the match against Roma on the 18th; the Manchester City game was on the day before my birthday, so I didn't want to be travelling.
We wanted to see how Los Blancos would play under Rafa Benitez; he only had just taken over the month before and this was his first match in charge and it showed. They multitude of changes didn't help. Ronaldo didn't come out for the 2nd half, which upset Cristina. Some of the young guys looked good; but no goals. It went to penanties, which we lost. But under the competition rules we still came away with 1 point because it was a draw after normal time.
But a week later we thrashed Man City 4-1 and won the Australian leg of the ICC.
A little anecdote: after we left the stadium and we were walking back to our hotel, 5 guys came out of bar and thought I was Rafa Benitez. Can you see a resemblance?
Please Note: Just click on any of the slides below to see the full piture.
Cristina outside the Melbourne Cricket Ground (MCG) before the match

View of the ground

Another view of the ground

Cristina showing the colours

Cristina

Cristina & me waiting for the game to start
It was still a great day!